Latest posts by Michael Malley
(see all)
Sister Wives star Madison Brush has been making headlines after finally giving birth to her third child, Josephine Lee Brush. Maddie also left the fans in awe after sharing a picture of her newborn daughter online. However, fans are curious about Kody Brown's reaction to his newest granddaughter. Apparently, Kody usually celebrates the arrival of his grandkids. Yet, it seems that things are different this time, especially now that he's no longer in a relationship with Janelle Brown.
Sister Wives: How Did Kody Brown React To Madison Brush's Newborn Daughter?
In a social media post, Sister Wives star Madison Brush shared a first glimpse of her newborn daughter, Josephine Lee Brush. Families and friends also showered Madison with positive messages in the comment section. However, fans noticed that Kody Brown was nowhere to be found to celebrate the arrival of his newborn granddaughter. According to some, it may be a clear indication of Kody's struggles with Janelle Brown's kids, especially after their split. Madison has yet to share if Kody has already met Josephine. But fans doubt that he will ever pay a visit similar to what he's done for Mykelti Padron's twins.
Christine Shares Excitement For Josephine 
Sister Wives star Christine Brown also took to social media to share her excitement for Madison's newborn daughter. According to Christine, her newborn granddaughter looks gorgeous. Some of Christine's kids also expressed their excitement for Josephine Lee Brush online. Fans also think it clearly indicates Christine and Janelle Brown's strong relationship behind the cameras.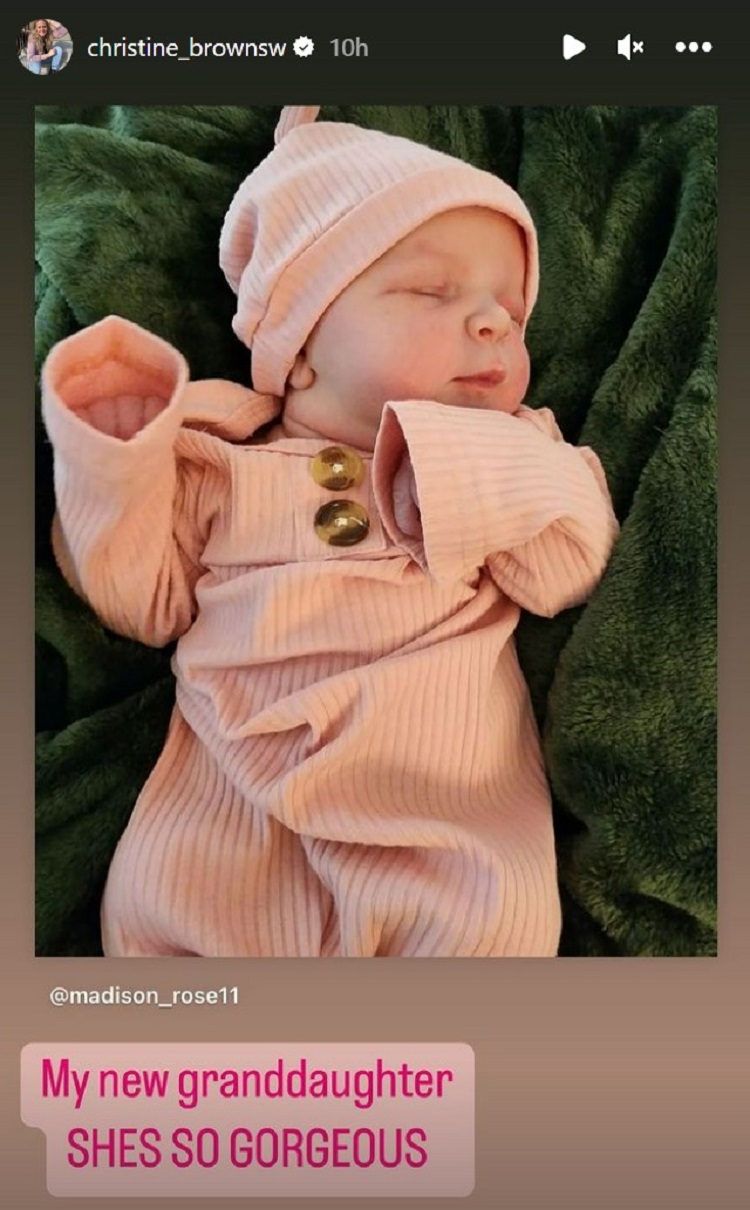 Sister Wives: Meri Brown Remains Awkardly Silent
Sister Wives fans also noticed that Meri Brown hasn't posted anything regarding Madison Brown's third child despite her online activities. Some believe that Meri hasn't been close with any of the kids due to their past experience with her. Apparently, reports claimed that Meri was a strict stepmother to some of the Brown kids and failed to build good relationships with them. Gwendlyn Brown also revealed that it's one of the main reasons why she hasn't been in touch with Meri. But she made it clear that she's a good person and has no intentions to hurt anyone.
Fortunately, Maddie's mom, Janelle is in North Carolina to help out and will be there for some time. She seems so excited about the new addition and has already shared it on social media. Do you hope that Kody will somehow come around and acknowledge all of his new grandchildren or will he remain stubborn? Let us know your thoughts in the comments.
Come back to Entertainment Chronicle for all your TLC updates and news.