Latest posts by Michael Malley
(see all)
90 Day Fiance star Jovi Dufren has been keeping in touch with the fans lately. Most of the time, he shares adorable updates with Yara Zaya and their daughter, Mylah. Fans have been praising Jovi's newfound maturity as well. According to some, he hasn't been drinking and partying lately. Instead, he's been spending most of his time with his family. Now, Jovi is back to share another update with his fans. This time, Jovi shares one of the most difficult travel experiences he had.
90 Day Fiance: Jovi Dufren Shares The Most Difficult Travel Experience He Had
In a social media post, 90 Day Fiance star Jovi Dufren answered a question about the most difficult travel experience he had. According to Jovi, he once lost a backpack filled with expensive items such as a camera, a watch, and his friend's headset. Jovi also revealed that he got his phone stolen on his first day in Brazil. "But traveling without a phone turned out to be quite fun," he added. Jovi has been traveling around the world due to his underwater robotics job. He also aims to bring Mylah to his future travels once she gets older.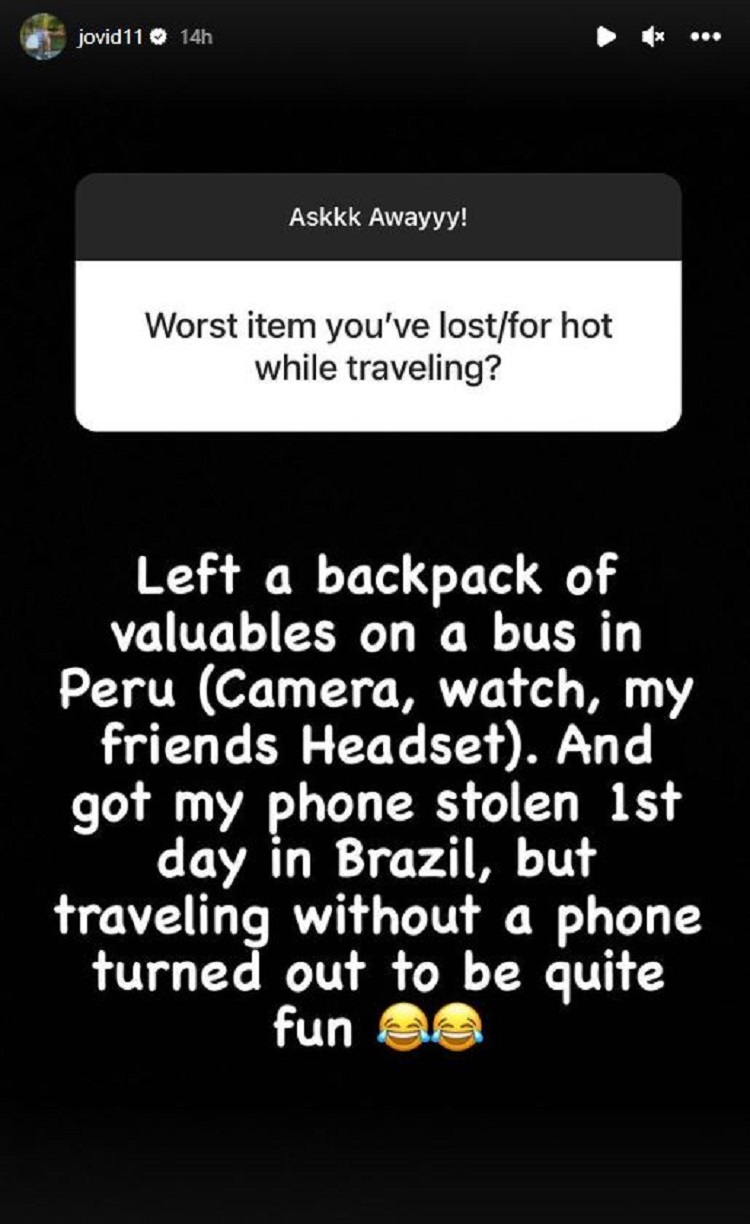 Jovi Shares His Favorite Thing About Mylah
90 Day Fiance star Jovi Dufren also opened up about his most recent favorite thing about Mylah. According to Jovi, seeing his daughter develop over the last 2 years makes him happy. "I love how easily she can communicate with us now," he added. Due to this, fans can expect more adorable clips from Mylah's conversation with her parents. Fans are also impressed that Mylah is already used to traveling at a very young age. Fans are also praising Jovi and Yara Zaya for their incredible parenting.
90 Day Fiance: Jovi Dufren Shares Stunning Picture With Yara
90 Day Fiance star Jovi Dufren also took to social media to share a stunning picture with Yara Zaya during their vacation in Germany. "More from Germany. These views were amazing!" Jovi captioned. Meanwhile, fans are glad that Jovi and Yara are now living their best lives as a married couple after all the challenges they had during the early stages of their relationship. Some fans consider Jovi and Yara to be one of the most successful TLC couples today.
On the other hand, some fans are hoping that TLC will keep Yara and Jovi around the franchise for many years. Others also suggest that TLC should give them a spinoff where they share their recent travels.
Come back to Entertainment Chronicle for all your TLC updates and news.