Latest posts by Nikole Behrens
(see all)
Many people following the Delphi murders wonder if the trail went cold a long time ago. The Indiana State Police adamantly say that it's not cold at all — they're just keeping a lot of information close to their chest for the time being.
The fifth anniversary of the killings is in just a few days. And the public has more questions than answers at this point. While this is incredibly frustrating, ISP says they're keeping information secret for a good reason. Superintendent Doug Carter recently said he really wishes authorities could share more information. But the time isn't right yet.
What does ISP know about the Delphi murders that they aren't willing to share?
Indianapolis station WISH recently had the opportunity to sit down with Superintendent Carter to discuss the situation.
"I wish we could tell people and literally the world what we know and one day we will be able to, but today is not that day," Carter said.
When asked what he would say to the killer, Carter simply said, "What the family says. Today could be the day; sleep well. Today could be today. Maybe it's tomorrow."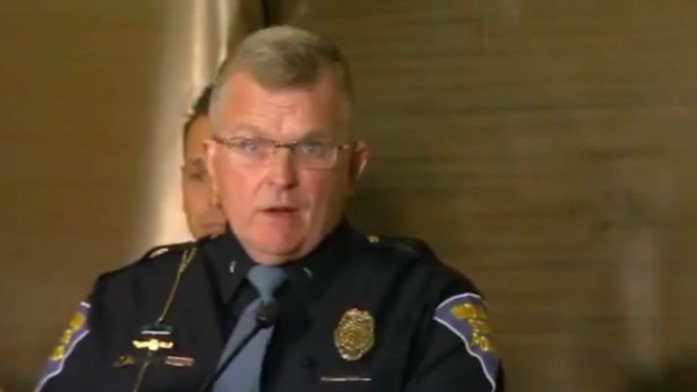 The public hopes that the case will be solved soon. Superintendent Carter spoke to other news outlets this week about case updates. While he didn't reveal any more important information, he did seem to think that the case will be solved in three years or less.
"Three years, two years 11 months," Carter told another Indianapolis station, WRTV. "It could be today. We continue to move in a positive direction."
Carter also revealed someone once asked him what he would say to victims Abby Williams and Libby German if he could talk to them.
"I'd simply say sorry, but I hope they're proud of us, of what we tried to do, and I believe one day I will be able to do that," the ISP official said.
At this point, we can't be sure what they know that we don't. But more information will probably come out if authorities solve the case.
Is Snapchat a factor in the case?
Indiana State Police haven't given out more details about the case in a few years. That's why many were surprised when authorities did make an announcement in December. It appears that a Snapchat catfish account could be connected with the murders. Authorities want information about the "anthony_shots" account and hope the public will be able to provide more information.
If you have information regarding the Delphi murders, you can alert the authorities here:
Email: abbyandlibbytip@cacoshrf.com
Tip Line: (844) 459-5786
Indiana State Police: (800) 382-7537
Carroll County Sheriff: (765) 564-2413
Keep following us online for more information on the Delphi murders. Hopefully, this will be the year we get justice for Abby Williams and Libby German.