Kristin Cavallari doesn't seem to hold back when it comes to filling people in about what life is like post-marriage to Jay Cutler.
Kristin Cavallari keeps mum about relationship status with comedian, Jeff Dye.
While Jay Cutler spends Thanksgiving with Carrie Underwood and Mike Fisher, his ex-wife takes to Instagram for a Q&A. Entertainingly, the Q&A takes place with Cavallari's best friend, Justin Anderson. Luckily for the reality star's fans, Us Weekly reports on all the juicy details.
Despite kissing in Chicago, and romantic dates in Nashville shortly thereafter, with comedian, Jeff Dye, mum's the word on Cavallari's relationship status. A source tells Us Weekly, "Kristin and Jeff just have a casual dating situation going on." Notably, these linkings to Jeff Dye come just six months post her split from Jay Cutler. In all fairness, it makes sense that Cavallari wouldn't want to jump into a serious relationship. Jokingly, Cavallari says she's "accepting applications" for a boyfriend.
Laguna Beach alum throws shade at fellow castmates.
It should come as no surprise that Kristin Cavallari's former best friend Kelly Henderson would come up in a Q&A. This is due to the fact that prior to Cavallari and Cutler's split, the duo shoots down rumors that Cutler had an affair with Henderson. A fan asks if the reality star would be "stuck in a room" with Lauren Conrad or Kelly Henderson. Neither Kristin Cavallari nor Justin Anderson has anything to say. Us Weekly reports that they "both took a sip of their drinks and looked away from the camera."
Things seem to spice up when Kristin Cavalari plays a game of "F—, Marry, Kill" from a list of form castmates. Her response isn't as predictable as people may think. She says, "I would marry Stephen, I would f—- Brody [Jenner] and I would probably kill Justin Bobby." While some may gasp at her murder selection, she goes on to explain. "No hard feelings, only because I haven't talked to him since The Hills."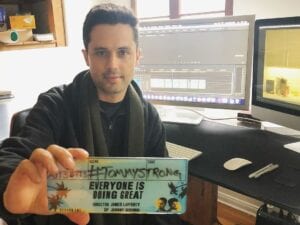 However, it seems that Kristin Cavallari knows that this game of Q&A isn't without consequences. Shockingly, she also admits this is her first Q&A. One of the things about Cavallari that fans may (or may not) find endearing about her is that she is unapologetically herself. This game of Q&A is no exception. "This was my first Q&A. I'm going to be in trouble tomorrow. I'm sorry. I don't apologize to anybody. I never have and I never will." Bringing the point home she says "I'm not f–king sorry."
It's hard to tell if the wine had any part in how candid Kristin Cavallari is in her first and latest Q&A. However, knowing how unapologetic Cavallari is, it's hard to think the wine had too much of an influence. Are you shocked about what she says on Instagram? Let us know in the comment section below. Check back with Entertainment Chronicle for more entertainment news.
Latest posts by Samantha Weinschreider
(see all)