90 Day Fiance celeb Darcey Silva's daughters, Anika Bollok and Aspen Bollok, are overwhelmed with excitement in a new clip online. The girls scream and jump for joy at the gender reveal party for their unborn baby brother.
90 Day Fiance: Darcey Silva's Girls About to Be Big Sisters
It appears their dad Frank Bollok and his young wife, Kristell Mapelli-Bollok are expecting a baby. When the cutting of the cake and the blue balloons signify the baby is a boy, the hooting and hollering starts.
Both of the 90 Day Fiance star's daughters attended their dad's wedding last year. The couple married last year around the same time Darcey was fantasizing about the man of her dreams, Tom Brooks.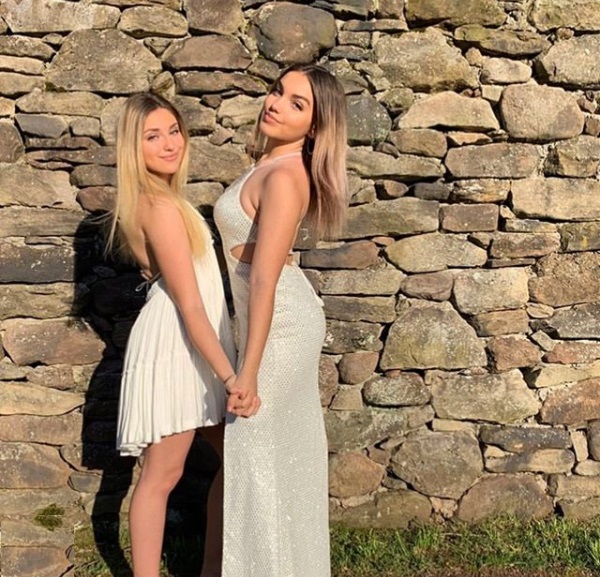 Darcey Silva's ex tied the knot in an elaborte Mexican resort. This now makes Frank's new wife a step-mother to Darcey's girls. But Kristell doesn't look too much older than Darcey's daughters.
Anika Bollok and Her Sister Aspen Bollok Celebrate With Stepmother
It seems as if Darcey stays young through her years with 90 Day Fiance. At 45 she looks a decade younger. Although it appears she still has something in common with her ex-Frank besides two beautiful daughers. Both Darcey Silva and Frank Bollok are with much younger partners today.
Aspen and Anika looked overjoyed to be expecting a baby brother. They appear to like their stepmother as they couldn't wait to hug her and scream for glee alongside her. It looks like these famous Darcey & Stacey  daughters might add babysitting to their long list of skills in the near future.
Frank Bollok was at the ready with a microphone. It appeared as if he intended to sing a song. But either the mic wasn't working or his wife and daughters' screams drowned him out.
90 Day Fiance: Bollok Sisters Grow Into Beautiful Young Women
These two 90 Day Fiance sisters star in their mom's new spinoff show, Darcey & Stacey. They film out of their home in Connecticut along with Darcey and her twin sister. They are also joined by Darcey and Stacey's mom and dad.
Darcey's daughters made their reality show debut on 90 Day Fiance back when Darcey was romancing Jesse Meester. The girls liked him, that is until  he made their mom cry.
Since that time, Darcey is working on her third love interest. But this time she does it on Darcey & Stacey It seems she's bound and determined to find a husband who is young and from a foreign country.
Darcey's daughters grew up in the TLC reality series spotlight online and they become two beautiful young ladies.
Check out Entertainment Chronicle for all your favorite TV and reality shows.