Latest posts by Nikki Desrosiers
(see all)
Pop Queen Dua Lipa has been setting stages across Europe on fire during the latest leg of her Future Nostalgia tour. Despite a messy onstage misstep earlier this week, the singer is in good spirits and has been enjoying her latest shows. Early this morning, the brunette bombshell shared a series of photos from her latest shows and they definitely snapped up her followers' attention.  Read on to find out what her fans are saying about her latest social media post.
Dua Lipa's Messy Mishap
Dua Lipa is well known for her funky retro-inspired music and her high-energy shows. The performer loves to include dance in all her performances and her stunning, over-the-top wardrobes are never a disappointment.
Currently, the 26-year-old Brit performer is traveling across Europe on her Future Nostalgia tour.
Late last week, during a live show, Dua took an unfortunate fall during her performance of 'Be The One.' Numerous fans in attendance caught the slip on camera and have posted it across the internet. In the clip, Dua 'sings' that she forgot the words to the song, and asks the audience to help her. She then launches into a shuffle-like sequence with her dancers. She abruptly slips and takes a falls to the floor, and the mic goes silent. The male dancer behind her quickly scoops the performer back to her feet and she begins to perform again.
Singer Seduces Fans In Lacy Lingerie
Early Tuesday morning Dua Lipa shared a set of photos on her Instagram highlighting some of her favorite moments from her latest shows.
In the main photo, Dua Lipa leans back in a chair after a show looking absolutely exhausted. Her makeup is still pristine though you can see the beginning beads of perspiration glowing on her face. She is nursing a large bottle of water and appears to be taking a moment of rest.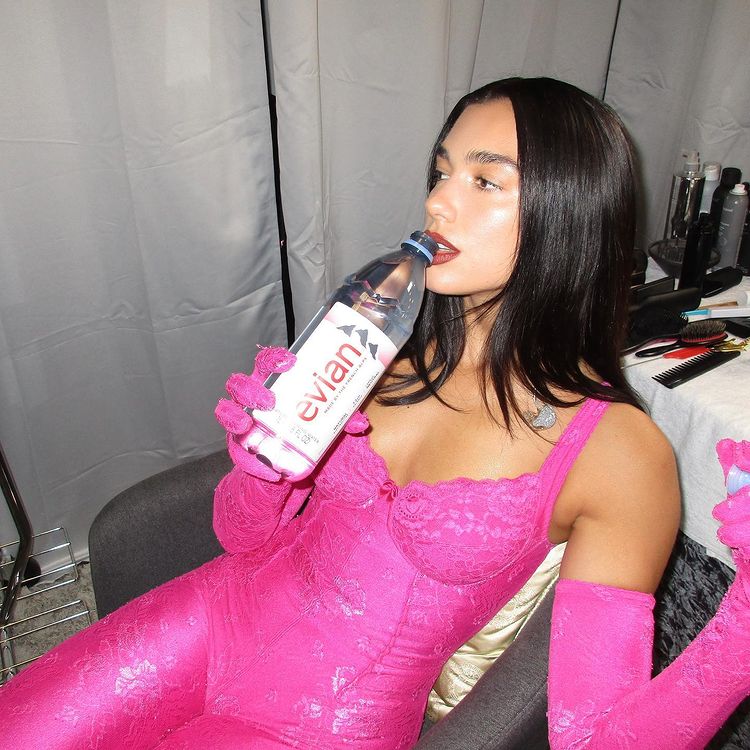 The singer is wearing a neon pink lace ensemble that looks like a boned, demi-cup corset with matching lace pants attached. Her toned shoulders are bare to the elbow and she wore matching long-length pink lace gloves. Dua wore her hair center-parted and left it loose and flowing around her shoulders. A heavy layer of berry-colored lipstick makes her dark brown eyes and tan skin-pop against the bright pink of her outfit.
Dua Lipa Flashes Her Bottom On Stage
In addition to her racy lace one-piece, Dua Lipa shared several other photos in the Instagram post. A few of them were close-ups of the singer on stage, mid-performance, others were additional angles of her in the lace suit. There was even one photo of her snuggled suggestively to a microphone stand singing with her eyes closed – but alas, there were a few photos that garnered even more attention than that.
It appears that one of the wardrobe changes on the Future Nostalgia includes a sheer bedazzled jumpsuit with leather accents and a barely-there thong-style bottom.
The photos feature Dua Lipa sliding down a mic stand into a close-legged squat. The photo that resulted gave her audience a full birds-eye view of her derriere – though she didn't seem to mind.
"Europe has been the dream so far," the singer wrote to caption her photo post. Likewise, fans found her just as dreamy, smothering the comment section with fire emojis and compliments.
What did you think of Dua Lipa's concert ensembles? Tell us in the comments.