Latest posts by Trisha Faulkner
(see all)
Danielle Busby of TLC's OutDaughtered had a bit of a health scare yesterday. According to Adam Busby's Instagram account, she was rushed to the hospital. Apparently, this was a sudden and unexpected decision after an otherwise pleasant day. Uncle Dale Mills Instagram Stories suggests he may have stepped in to watch the girls so Adam could be at the hospital with Danielle.
Instagram couch doctors came out in swarms to offer health advice
While Adam and Danielle Busby rarely ask for it. They have a huge following. A huge following armed with advice. Unsurprisingly, there were a lot of Instagram couch doctors ready to assist in diagnosing mama Busby.
OutDaughtered fans quickly worried COVID-19 might be to blame. After all, fans know Adam has some reservations about wearing masks. Fans also know Danielle recently spoke at a charity gala. Fans assume the gala had a decently sized crowd. Moreover, Danielle Busby recently caught heat for not properly wearing her face mask over her nose. Mix that in with the fact that TV Shows Ace confirms her symptoms are also confirmed symptoms of COVID-19… And, it is possible that is what she has.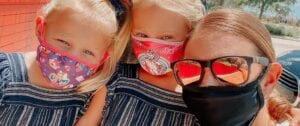 That being said, not everyone was quick to jump on the COVID-19 train. Some suspected she might be suffering from fibromyalgia. The suggestion stemmed from fans who also suffer from it. Or fans who have family members with fibromyalgia. What is fibromyalgia? Why are some fans thinking that could be the culprit? Keep reading to find out.
What exactly is fibromyalgia, anyway?
Fibromyalgia is defined as a "widespread muscle pain and tenderness." They are a pretty large list of symptoms including:
musculoskeletal pain
areas of tenderness on the body
general fatigue
sleep trouble
cognitive disturbances
Fibromyalgia is a condition medical experts do not completely understand. Moreover, there isn't really a test to confirm someone has fibro. That being said, some OutDaughtered fans insisted the sensation Danielle Busby experienced in her limbs prior to the hospital trip is a symptom of fibro.
Adam Busby updates, but offers no additional info on Danielle Busby's health
Adam Busby did take to Instagram to let his followers know he was back home with the girls. We are not sure if Danielle returned home or stayed behind. Adam ended up coming home with the girls without any additional information. In fact, he informed his followers Danielle would meet with some specialists for some follow-up tests later this week.
Specialists suggest the problem is likely something deeper than COVID-19. But, that doesn't rule out fibromyalgia. What do you think could be wrong with Danielle Busby's health? Share your thoughts with us in the comments.