Latest posts by Michael Malley
(see all)
90 Day Fiance: The Other Way star Daniele Gates has been having marital problems with Yohan Geronimo. The 44-year-old wife accused her husband of taking money from her bank account without her knowledge. Their trust issues are getting worse, and they have yet to solve a problem as the season progresses. The two have been silent about each other on social media, hinting that they're no longer together. However, Daniele's recent post showing off some of her tattoos leaves fans scratching their heads.
90 Day Fiance: Daniele Gates' Life Behind Cameras
Daniele has been thriving in her career as a yoga instructor. Many of her social media posts today are about finding inner peace. She has also been utilizing her TV fame to promote different products online. She hasn't shared much about her status with Yohan behind cameras. But she still resides in the Dominican Republic today. She also makes an income by running retreats.
The 90 Day Fiance star has also been traveling over the past few days. Recently, Daniele revealed that she went to Mexico City to stay at a hotel with her dog, Gizmo.
Daniele Shocks Fans With Her Tattoo
Daniele also took to social media earlier this month to celebrate her 44th birthday. According to the 90 Day Fiance star, she still doesn't know what she's doing in her life. However, she has been enjoying her journey. She also mentioned relishing all the people she met who taught her many things. "I can't do anything with what I receive from others," she added.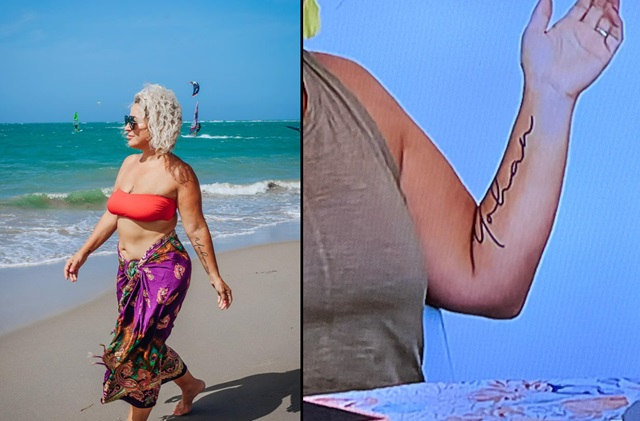 Daniele Gates also shared some stunning photos of herself. But one picture caught the attention of many. It was a snap of herself walking at the beach with a "Yohan" tattoo on her arm. It seems that she had the ink during her early days with the Dominican Republic native. But she has expressed her regrets about her marriage, and it seems that she's regretting having him tattooed on her arm as well. Some fans on Reddit also shared a much more visible angle of her tattoo, and many were left shaking their heads.
"I could and I have BUT I'd never tattoo their name on me, let alone a tattoo that big," one person said.
"I can't believe she did that considering their marriage. Wow," another commenter added.
90 Day Fiance: Yohan Gerinomo Continues To Focus On Himself
While Daniele is busy with her career, Yohan has been putting a lot of time and effort into his body. Recently, the 90 Day Fiance star shared a stunning photo of himself showing off his muscles. "Competing with myself," he captioned. He has expressed his desire to build his own gym during the show. But it seems he never got to start planning it due to his marriage problems with Daniele. Yohan Gerinomo was a personal trainer at a hotel. He also had a butcher shop business, which unfortunately closed after the landlord decided to use the space for an office.