Latest posts by Michael Malley
(see all)
Counting On alum Johannah Duggar has kept a low profile for years. She's the 16th child of Jim Bob and Michelle. Despite the 17-year-old's absence, many Duggar siblings have kept the followers in touch regarding her life. It also appears that she's still following a lot of the family's traditions, despite the increasing number of Duggar adults stepping away from their beliefs. Keep reading to see what she's up to today.
Counting On: Johannah Duggar Is All Grown-Up
It's been quite some time since fans last saw Johannah on TV. Due to this, many were surprised to see how big she had become in her last social media photos. In November 2021, Jim Bob and Michelle uploaded photos from their after-church activities, and their daughter caught the attention of many.
"Can't cope with how grown up Johannah is! A mix of Joy and Jana!" one fan said.
"Johanna is absolutely beautiful," another commenter added.
Furthermore, Johannah has been present when it comes to Duggar gatherings. She has been spotted in some of her siblings' pregnancy announcements and gender reveals.
Is Johannah Still Homeschooled?
Johannah has been homeschooled since she was a child, along with her brother, Jackson. In May 2023, the siblings graduated from high school. According to Jim Bob and Michelle, they're excited for the next chapter of their lives. They didn't mention anything about the kids' college. However, it's known that only a few Duggars entered university. Some of them weren't even able to finish college. One of them was Jinger, who was once studying for a music degree. Joseph also took classes at a religious college but later joined his father in real estate.
Some Counting On fans are worried that Johannah may end up like several of her sisters, especially Jana, who spent a lot of years looking after her younger siblings and not being able to chase her dreams.
Counting On: Johannah Duggar's Rumored Courtship
Johanna was rumored to be linked to Carver Bowers. They grew up as friends, but some fans continue to get curious about their possible courtship. Many have also pointed out how some of the Duggars got married young, especially Justin, who tied the knot with Claire Spivey at the age of 18. Michelle herself also exchanged vows with Jim Bob at 17.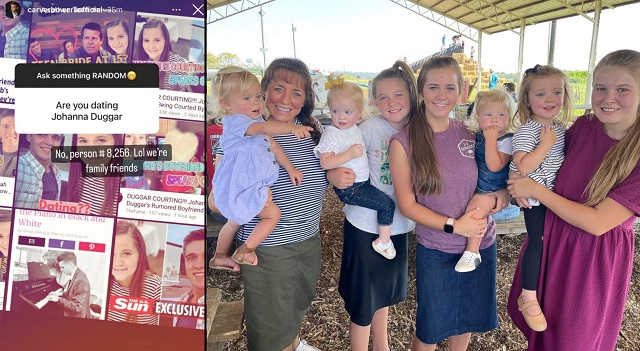 However, Carver had enough and finally put an end to the speculations. In August 2022, he made it clear that they were just family friends. Johannah Duggar has also been putting a lot of time and effort into the supersized family, even before her rumored courtship. In September 2021, Michelle posed with her daughters, including Johannah, carrying their nieces.