Latest posts by Michael Malley
(see all)
Counting On fans have been keeping their eyes close to Jason Duggar for months. Many are curious about what he's been up to. Apparently, Jason usually posts wholesome content about the Duggar family. He's been spending a lot of time with his siblings as well, especially those who no longer live in the Duggar compound. However, fans find it odd that Jason never seems to have time for himself, especially when it comes to his love life. Until recently, fans spotted Jason with some of the Duggars attending a gathering of a family friend where his rumored lover, Claire Langdon, is present. This also sparked rumors that things might be getting serious between Jason and Claire.
Counting On: New Evidence Found On Jason Duggar's Courtship?
Counting On fans from Reddit share their thoughts on the recent photos circulating online showing some of the Duggars attending a gathering. However, Jason Duggar caught the attention of many as he was spotted looking so close to Claire Langdon. Apparently, Jason and Claire's families have been friends for a long time. This wasn't the first time Jason was spotted spending time with Claire and her family as well. Due to this, fans start to speculate that something is going on between the two. "Jasón and Claire are definitely courting – 100%," one person said. Some fans also pointed out that there's going to be a "second Claire Duggar" if the speculations are correct. At this point, Jason has yet to share his comments regarding his courtship rumors. It also appears that he's no longer interacting with the fans on social media.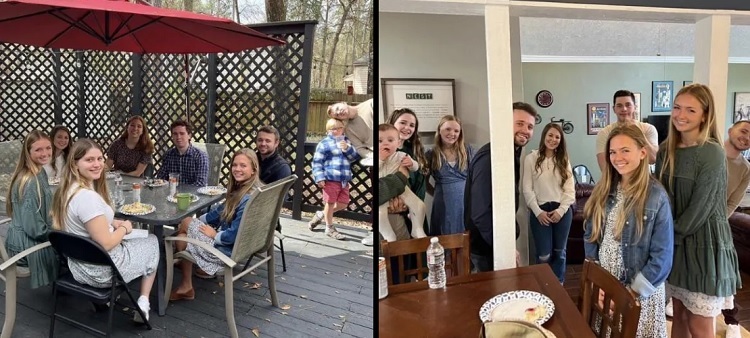 Jason's Online Absence
It's been quite some time since Jason Duggar last posted on his social media page. It was about the concert that he attended with some of his friends back in June 2022. Since then, Jason has never posted anything. Counting On fans believe Jason is laying low from the online world after all the controversies that the Duggar family faced last year. There are also speculations that he's preparing himself for the next chapter of his life as he finally plans to get married.
Counting On: Where Is Jason Duggar Now?
At this point, Counting On star Jason Duggar is still living in the Duggar compound. It's unclear what he's been up to lately. But he's often spotted on his brother James Duggar's recent vlogs. It also appears that James is now one of the most active Duggars today. He's been uploading videos about his "wild" decisions in life, and many were surprised to see a new and refreshing side of the Duggar kids.
Meanwhile, Jim Bob Duggar and Michelle Duggar are still silent online. But it seems that things are finally getting better in the big family, especially with all the big gatherings they had late in December 2022. Do you think that things will improve? Let us know in the comments below.
Come back to Entertainment Chronicle for all your TLC updates and news.