Latest posts by Michael Malley
(see all)
90 Day Fiance star Juliana Custodio has been busy with her life as a mother to her newborn son, James Louis Custodio. She's been sharing adorable pictures of them lately, and it's clear to see that she's enjoying every second with her baby boy. Meanwhile, fans are praising Juliana's fiance, Ben Obscura, for always being there for his growing family. Now, Juliana is back to share another update for the fans. However, this time, Juliana is sharing her recent struggles in parenting, and it seems that many are relating to her.
90 Day Fiance: Juliana Custodio Shares Recent Struggles In Parenting
In a social media post, 90 Day Fiance star Juliana Custodio shared her recent struggles in parenting. According to Juliana, she hasn't slept a lot since the arrival of her son. Some fans told Juliana that it's part of being a parent and something she must endure it for months to come. Meanwhile, Juliana also took social media to thank her friends who have been helping her with James Louis. "So lucky to have support from my friends. Baby Ben have been crying for 2 days during the day," Juliana said.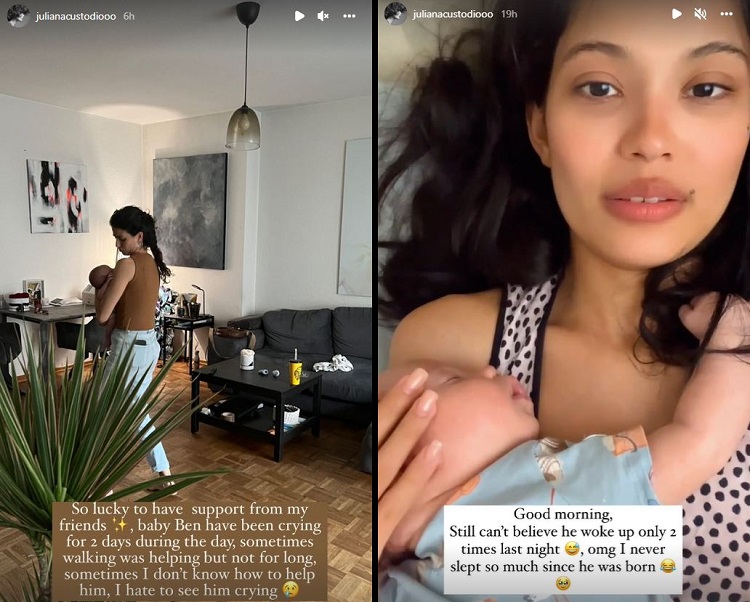 She also revealed that walking her son helps but not for long. Juliana added that she doesn't know how to help her son and she hates to see him crying. It's clear to see that Juliana is struggling to be a first-time parent. Fortunately, fans have been leaving parenting tips and other motivational messages for Juliana in her recent posts to help her do better.
Juliana Shares Adorable Picture With Family
Juliana also took social media to share an adorable picture with her son and fiance. "Who does he looks like?" Juliana captioned. Moments later, fans took Juliana's comment section to talk about who's more similar to James Louis. According to some, James Louis looks more like his father. "Totally 100 percent dad right down to the blue eyes," one fan said. "Omg he really is his dad's twin so far!" another fan added. Meanwhile, some fans told Juliana to wait for a few weeks more and do the survey again.
90 Day Fiance: What's Next For Juliana Custodio?
At this point, Juliana has yet to share her next big project after giving birth will be. There are speculations that Juliana is already preparing to return to her modeling career. Meanwhile, some fans believe that Juliana will be focusing more on parenting in the coming months. On the other hand, Ben Obscura's job remains a mystery to many. There are reports stating that he's an art collector and actually owns a gallery in Germany. Due to this, fans believe Ben is wealthy enough to support his growing family.
It's clear to see that James Louis's arrival brought big changes to Juliana's life. It also appears that she enjoying her life much more with Ben compared to her ex-husband, Michael Jessen. What do you think she should do next? Let us know your thoughts in the comments below. Plus, who do you think the baby looks more like? Also, let us know your thoughts and any tips for her as a new parent. Congrats to Juliana and Ben on the baby.
Come back to Entertainment Chronicle for all your TLC updates and news.