Sister Wives star Meri Brown loves to share cryptic quotes on social media. Fans also think that most of them depict her struggling relationship with Kody Brown and the other wives. It's known that Meri and Kody's relationship has been falling apart for years, and it seems that it's only getting worse. Now, Meri is back with another cryptic quote. However, this time, fans think that Meri is shading Kody's anger issues.
Sister Wives: Meri Brown Shares Cryptic Quote About Kody Brown's Anger Issues?
In a social media post, Sister Wives star Meri Brown shared a quote that talks about how she handles anger. "Just because I don't fight back doesn't mean I'm weak. It just means I'm mature enough to know that anger won't solve anything," Meri said. It also appears that Meri's quote is trying to shade Kody Brown's anger issues throughout the years. Apparently, fans have seen how Kody gets easily frustrated towards his wives whenever they're arguing about something. According to some, Kody doesn't want to listen to his wives and only wants them to follow whatever he wants, which is something that Meri doesn't like. There are also reports stating that Meri is no longer talking to Kody behind the cameras, showing how dysfunctional the family has become.
Meri Wants To Focus Loving Her Life
Aside from her cryptic quote about anger, Sister Wives star Meri Brown also shared a quote that talks about focusing on loving her life. "Be busy loving your life that you have no time for hate, regret, or fear," Meri said. It's clear to see that Meri has been focusing on her life lately. She barely posts anything about the plural family on social media. Instead, she's been spending most of her time with her friends and business partners. At one point, Meri traveled to Cancun, Mexico with her business friends from LuLaRoe amid her struggles with Kody Brown.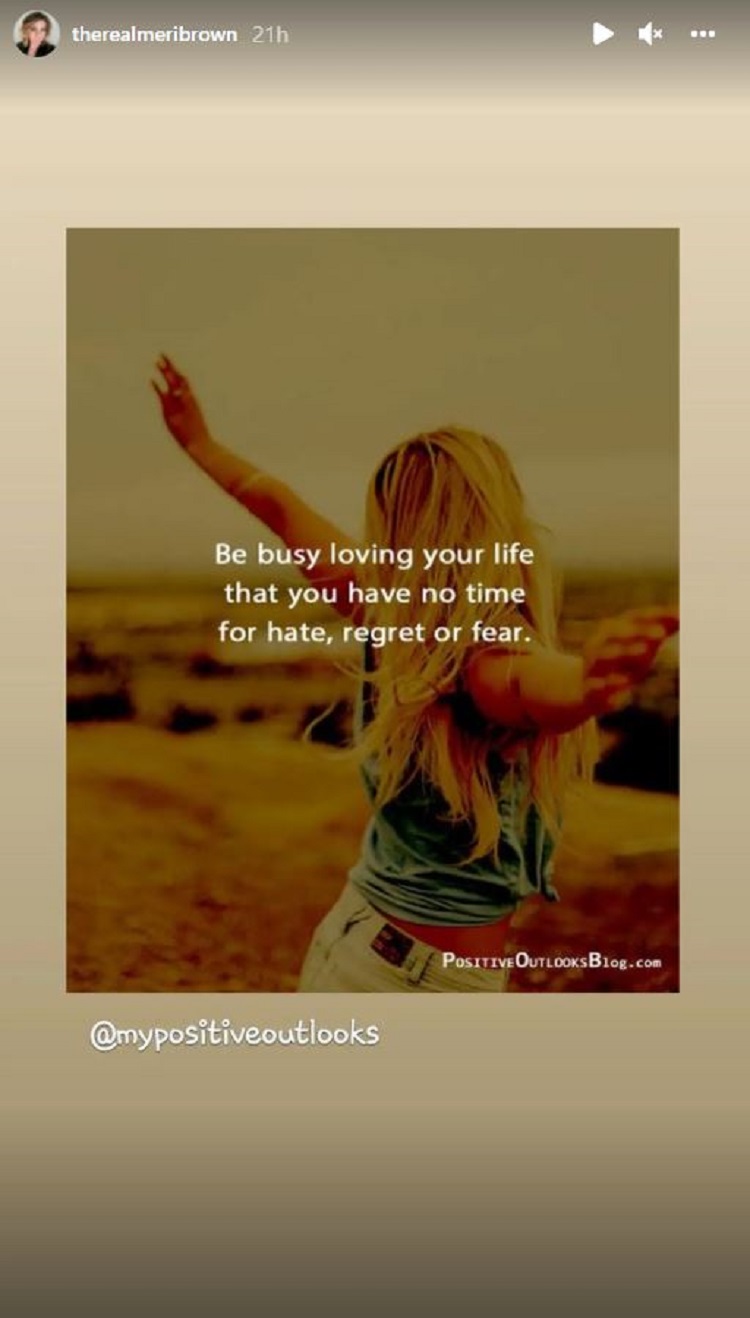 Sister Wives: Fans Are Falling In Love With Meri Brown's Humor In Season 16
Sister Wives fans are rooting for Meri Brown and her shady humor during season 16. Apparently, Meri surprised the fans with her new attitude towards Kody Brown. According to some, Meri is no longer having any of Kody's antics and problematic decision makings. Fans even took Reddit to discuss Meri's humor in the first episode. "Anyone else cackling at some of the things Meri said in this first episode? If I take this lot, maybe he will visit me?" one person said. "Meri really felt like a breath of fresh air in last night's episode. I think she was actually funny/witty & looked better than she has in years," another person added.
It's clear to see that things are not looking great inside the plural family. Some are even asking Meri to follow Christine's steps and leave Kody. Meanwhile, fans are wondering, will Kody get his wives together before it's too late?
Come back to Entertainment Chronicle for all your TLC updates and news.
Latest posts by Michael Malley
(see all)