Latest posts by Michael Malley
(see all)
Counting On star Joy-Anna Duggar has been leaving fans in awe after finally giving birth to her third child, Gunner James. Many are also glad that Joy-Anna had a healthy pregnancy despite her past miscarriage. She also made it clear that Gunner is a healthy baby boy. Now, Joy-Anna is back to share another update for the fans. This time, Joy-Anna is sharing her first big outdoor activity with Gunner.
Counting On: Joy-Anna Duggar Shares First Big Activity With Gunner James
In a social media post, Counting On star Joy-Anna Duggar shared her first big activity with her newborn son, Gunner James. Apparently, Joy-Anna and her kids went out to watch over Austin Forsyth's work at their farm. "Bailing hay today. The kids got to drive the tractors and learned the process of storing up hay for the winter," Joy-Anna captioned. Some fans are confused about Joy-Anna bringing her newborn sun into an environment with such a hot temperature. However, others believe that Joy-Anna knows what she's doing and is making sure that Gunner James won't suffer from the heat.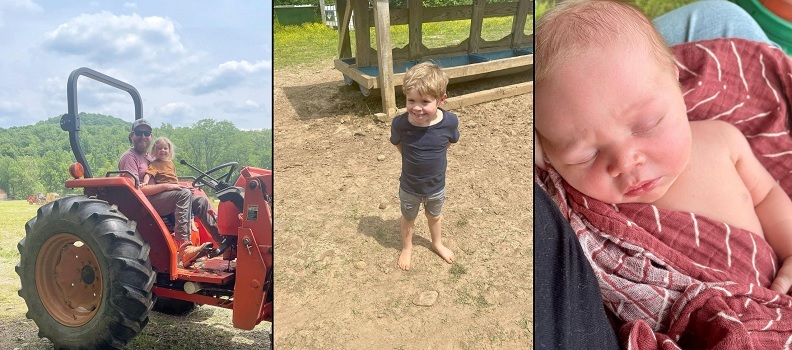 Do Joy-Anna & Austin Own A Farm?
Counting On star Joy-Anna Duggar loves to share clips and pictures from their farm. However, it doesn't come from Jim Bob Duggar and Michelle Duggar. Instead, it's believed that the farm they've been taking care of was inherited by Austin Forsyth from his parents. It features different kinds of animals, especially cows. Joy-Anna also revealed last December that some of their cows gave birth to a handful of calves.
Counting On: Fans Already Asking The Big Question On Joy-Anna Duggar
Just days after giving birth to her third child, Counting On star Joy-Anna Duggar is already receiving big questions from the fans. One of which is if she's planning to have another child this year. At this point, Joy-Anna has yet to share her comments regarding such questions. However, some of her loyal fans have been defending her online and telling the critics to avoid such rude questions. Nevertheless, many are happy about Joy-Anna's growing family.
It's unclear if Jim Bob Duggar and Michelle Duggar have already met Gunner James. Yet, it is clear that Joy-Anna's siblings are excited about the latest addition to their family. On the other hand, fans are already looking forward to the arrival of Katey Duggar and Jed Duggar's second child this month. Are you hopeful that these births will completely bring the family back together? Let us know in the comments below.