Latest posts by Michael Malley
(see all)
Counting On star Joy-Anna Duggar has been keeping in touch with the fans lately. Most of the time, Joy-Anna shares adorable updates about her kids. Many are also excited about her pregnancy. Joy-Anna also made headlines after sharing that she flew to Los Angeles to spend some time with her sister, Jinger Duggar. Now, Joy-Anna took to YouTube to share all the activities they did in LA.
Counting On: Joy-Anna Duggar Shares Wholesome Vlog With Jinger Duggar In Los Angeles
In a YouTube post, Counting On star Joy-Anna Duggar shared a 9-minute video featuring her family's trip to Los Angeles. Joy-Anna and her family were so excited about the trip. Later in the video, Joy-Anna finally reunited with her sister, and the two didn't waste any time bonding and sharing updates about each other. Joy-Anna and Jinger also brought their kids to a local park to play around and enjoy the nice weather. Joy-Anna didn't share any bonding time with her kids with Jinger's daughters. However, fans assume that the cousins played a lot behind the cameras.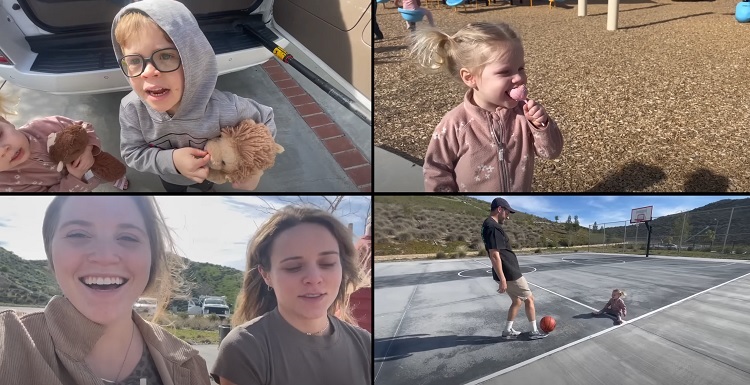 How Long Did Joy-Anna Stayed In LA?
Counting On star Jinger Duggar revealed that they only stayed in Los Angeles for almost a week, which explains her sudden absence on social media. Jinger Duggar also told Jinger in her latest post that she misses her already. Meanwhile, fans are glad that some of the Duggar kids are finding ways to spend time with each other despite their distance. Fans also believe that Joy-Anna fully supports her sister's latest book, Becoming Free Indeed, which questions the harmful ideology of the IBLP.
Counting On: Jinger Duggar Stuns In Monday Photo
Counting On star Jinger Duggar also took to social media to share a stunning photo of herself after Joy-Anna Duggar's departure. "Happy Monday," Jinger captioned. Families and friends of Jinger also praised her stunning looks. James Duggar also left a sweet message for his sister. "Lookin good there Sis and happy Monday," James said. Meanwhile, fans are impressed by Jinger's change throughout the years. According to some, it's clear that living in Los Angeles and stepping away from the Duggar family's dress codes brought a big impact on how Jinger dresses up today.
Fans believe that Jinger's life has improved a lot since stepping away from the Duggar family's strict beliefs. Fans are also hoping that Jinger will continue to become an inspiration to some of her siblings to finally step away from the questionable teachings of the IBLP. Do you think that she has the power to change things within her family? Let us know in the comments.
Make sure you return to Entertainment Chronicle for all your Duggar news and updates.