Latest posts by Michael Malley
(see all)
Counting On star Joy-Anna Duggar has been leaving fans in awe with her family's adorable pictures online. She's been sharing photos about her growing baby bump and fans are getting more excited each time she shares an update. Joy-Anna also took to social media recently to share that her sister, Jana Duggar, accompanied her for a quick pregnancy checkup. Now, she's sharing with her followers how her husband, Austin Forsyth, surprised her on her birthday.
Counting On: Joy-Anna Duggar Shares Austin Forsyth's Secret Birthday Trip For Her
The Counting On star took to YouTube to share a vlog from her recent birthday celebration. However, it's a bit different this time as she gets a secret birthday trip from her husband, Austin Forsyth. The two also left the kids at home with their grandparents. Moments later, they drove off and Austin explained where they were going. According to Austin, they'd be staying in a fancy hotel in Silver Dollar City. Joy-Anna expressed how happy she was to be able to spend the next 24 hours with just her husband. She later shared clips of activities, and it's clear to see that they had fun. The post included a clip of herself eating a pickle, which she explained as one of the most special gifts she received, due to her pregnancy cravings.
Joy-Anna Continues To Hustle Online
Counting On fans have noticed Joy-Anna's efforts to make extra income amid her pregnancy. Apparently, Joy-Anna took to social media to promote several products, such as slippers and a phone case. Fans have also been praising Joy-Anna's recent vlog and told her that she's been improving a lot with her editing skills. It seems she is shifting focus to her YouTube channel. Due to this, fans can expect more vlogs in the coming months.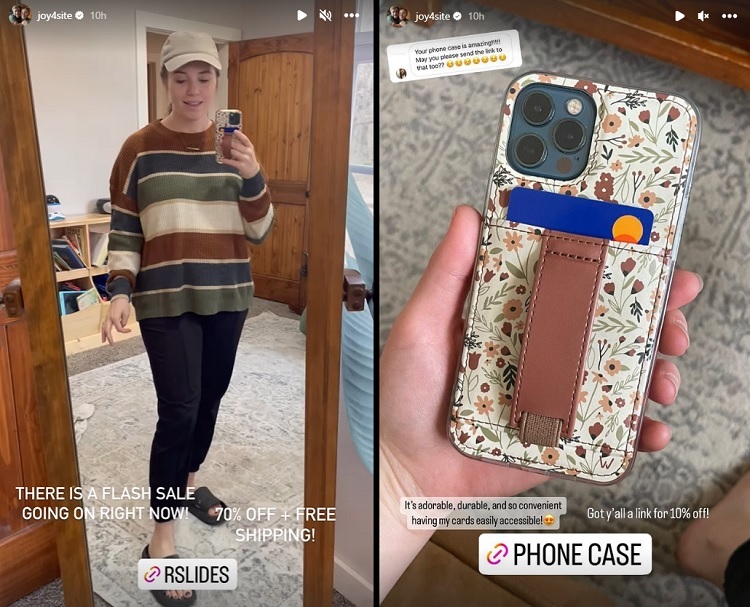 Counting On: Will Joy-Anna Duggar Duggar Reveal The Gender Of Upcoming Baby?
At this point, Counting On star Joy-Anna Duggar has yet to share the gender of her upcoming baby. However, fans think that she already knows the gender after going for a checkup during her 12-week pregnancy, but it seems that Joy-Anna is still keeping it a secret. There may be another gender reveal party soon. Fans hope the Duggar family will take part in it, especially with how excited Michelle and Jim Bob Duggar looked during her recent pregnancy announcement vlog.
It's clear to see that Joy-Anna has been enjoying every minute with her family lately. Despite his busy schedule, fans are also praising Austin for his efforts in taking care of Joy-Anna. For more updates on Joy-Anna's pregnancy and the Duggar family, come back to Entertainment Chronicle.